Monday, 04 Aug 2014 @
11:21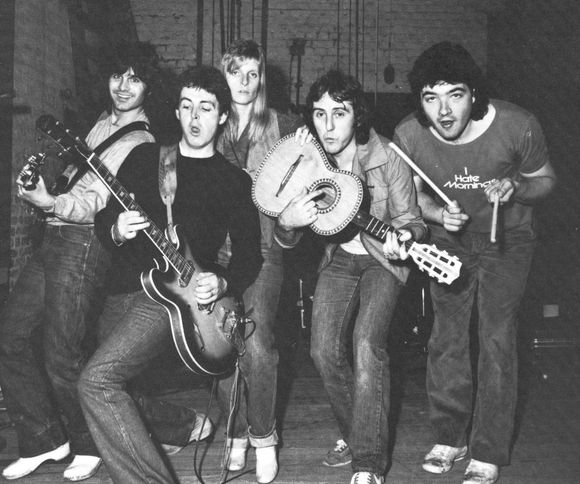 Ремастерированные версии альбомов Venus and Mars и Wings At The Speed of Sound выйдут 22 сентября в Великобритании и 23 сентября в США. Альбомы являются частью серии Paul McCartney Archive Collection, в рамках которой ранее ужё переизданы Band on the Run, McCartney, McCartney II, RAM и Wings over America.
Ремастированныа альбомы будут доступны в двух форматах: двухдисковое издание Standard Edition с оригинальным альбомом и бонусным аудио, а также трёхдисковое издание Deluxe Edition, содержащее DVD с бонусными материалами и книги с неопубликованными фотографиями.
Wings — группа, организованная Полом Маккартни после распада The Beatles в 1971 году и просуществовавшая до 1981 года. Постоянными учасниками группы были Пол Маккартни (бас-гитара, электрогитара, акустическая гитара, клавишные, вокал), Линда Маккартни (клавишные, вокал) и Денни Лэйн (электрогитара, вокал).
Треклист Venus and Mars:
CD 1 – Remastered Album
1. Venus and Mars
2. Rock Show
3. Love In Song
4. You Gave Me The Answer
5. Magneto and Titanium Man
6. Letting Go
7. Venus and Mars – Reprise
8. Spirits Of Ancient Egypt
9. Medicine Jar
10. Call Me Back Again
11. Listen To What The Man Said
12. Treat Her Gently – Lonely Old People
13. Crossroads

CD 2 – Bonus Audio
1. Junior's Farm
2. Sally G
3. Walking In The Park With Eloise
4. Bridge On The River Suite
5. My Carnival
6. Going To New Orleans (My Carnival)
7. Hey Diddle [Ernie Winfrey Mix]
8. Let's Love
9. Soily [from One Hand Clapping]
10. Baby Face [from One Hand Clapping]
11. Lunch Box/Odd Sox
12. 4th Of July
13. Rock Show [Old Version]
14. Letting Go [Single Edit]

DVD – Bonus Film
1. Recording My Carnival
2. Bon Voyageur
3. Wings At Elstree
4. Venus and Mars TV Ad
Треклист Wings At The Speed of Sound:
CD 1 – Remastered Album
1. Let 'Em In
2. The Note You Never Wrote
3. She's My Baby
4. Beware My Love
5. Wino Junko
6. Silly Love Songs
7. Cook Of The House
8. Time To Hide
9. Must Do Something About It
10. San Ferry Anne
11. Warm And Beautiful

CD 2 – Bonus Audio
1. Silly Love Songs [Demo]
2. She's My Baby [Demo]
3. Message To Joe
4. Beware My Love [John Bonham Version]
5. Must Do Something About It [Paul's Version]
6. Let 'Em In [Demo]
7. Warm And Beautiful [Instrumental Demo]

DVD – Bonus Film
1. Silly Love Songs Music Video
2. Wings Over Wembley
3. Wings In Venice
Delta specifically for radio Colorsound